With so much snorkelling equipment available, it can be a bit of a nightmare trying to work out which kit will be best for you – especially if you're new to the sport.
I'm hoping that this little guide will help you find the best gear for snorkelling based on the type of adventures you've got planned.
You'll need mask, snorkel and fins to form your basic kit, and you might want to add in some extras too depending on where in the world you're snorkelling.
I'll take you through the questions that I ask Honest Diver customers to narrow down exactly what they need. Of course, if you need some more advice, just give me a shout. I'd
love to help find the best gear for snorkelling for you!
Jump to a section:
BEST MASKS FOR SNORKELLING
I'll be completely honest with you, buying a mask online is almost impossible without trying it on first. I highly recommend that you give Honest HQ a visit. You can even jump in our test tank and give some masks (and anything else you need) a spin in the water.
If you're not up in the North East, hit up your local dive centre to try some masks on your face. You need to do the "suck test" and I made a video that explains exactly how to do it.
As a starting point (so you know what to ask for when you want to try them) here's my pick for the best snorkelling masks: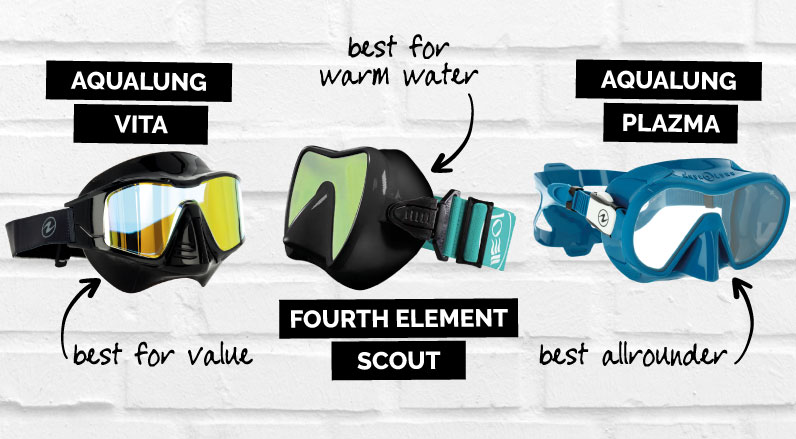 The Aqualung Vita is a cracking budget mask. It's a dedicated snorkelling mask (it's not suitable for scuba diving as it's got plastic lenses) and as such it's got a really interesting design. We use it at The Fifth Point on our grey seal snorkel safaris and everyone says it's super comfy.
If you're starting off in snorkelling and don't want to invest too much in case it's not for you, or just looking for a cheapy kit to take on holiday the Aqualung Vita comes in an awesome bundle with snorkel and fins too!
If you're planning some snorkelling adventures on your next holiday, the Fourth Element Scout is my top pick. You can customise your mask and strap colour, but most importantly, you can choose the lens based on the water conditions.
For warm water snorkelling, I'd recommend a Scout mask with the Protect lens. This will help shield your eyes from UV rays, exactly like sunglasses.
If your snorkelling in the UK, then have a look at a Scout mask with a Contrast lens. It sounds weird, but this mask really helps the colours pop in cooler water!
This is probably the most popular mask for snorkelling chosen by Honest customers. I find that it fits the majority of faces and it's a good price too. The Aqualung Plazma comes in loads of different colours so you can coordinate it with your fins, snorkels, and even your luggage!
I love this mask so much, I've made a couple of snorkel gear bundles around it. You'll get an Aqualung Zephyr Snorkel and your choice of either Aqualung Storm or Storm Max fins.
BEST SNORKELS FOR SNORKELLING
When picking your snorkel, think about two things – your comfort levels in the water and how experienced you are as a snorkeller.
If you're new to snorkelling, I'd say get a snorkel that's really easy to clear – one with a valve just under the mouth piece makes things a doddle while you get used to the skill of blast clearing. If the thought of water coming down your snorkel freaks you out, get one that has a "dry top" – a little flap that closes when the top gets near the water. It won't keep it out 100%, but it reduces it a lot.
If you're a snorkelling pro, comfy with clearing your snorkel, all you'll need is a billy basic breathing tube. No need for extra features!
Here's the best gear for snorkelling from beginner through to pro: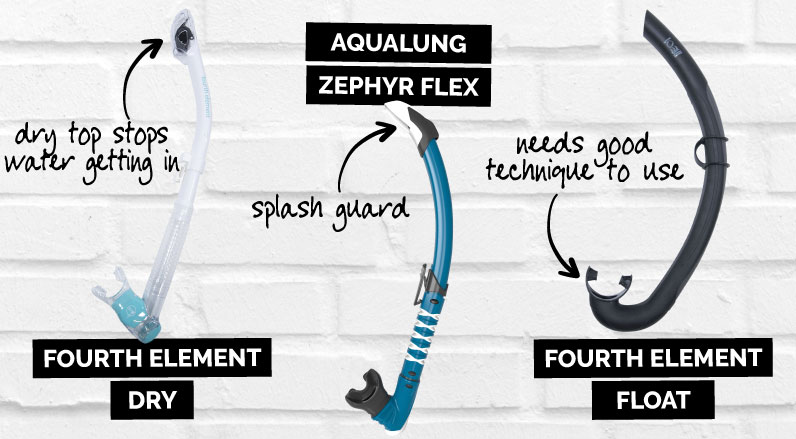 This is a good choice of snorkel for any newbies. The Fourth Element Dry Snorkel has some little tricks up its sleeve that will help you feel comfy in the water as you develop your snorkelling skills.
The dry top has a valve that closes when it gets near the surface of the water. It'll not stop 100% of the water that gets into the tube, but it'll massively reduce it. The valve in the mouthpiece helps you easily clear any water out if it does find its way inside.
The Aqualung Zephyr Flex Snorkel sits in the gap between newbie and pro. To be honest, this is actually my real recommendation for beginners.
While a snorkel with a dry top might sound brilliant, it's a bit clunky and might lull you into a false sense of security. The Zephyr Flex has a splash guard at the top that reduces the amount of water getting in, but encourages you to practice and master your snorkel skills – not to rely on a gadget to keep you safe!
This snorkel comes in loads of colours, so if colour coordination is your thang, you should find a design to suit!
The Fourth Element Float is as basic as snorkels come. It literally is just a tube for breathing. There's no splash guards, no valves, no fancy attachments for your mask. If you've been snorkelling for a while and feel confident with your blast clear skills, going back to basics is great.
It does what it says on the tin and if you lose it, it'll float on the surface so you can easily find it again!
BEST FINS FOR SNORKELLING
Deciding which fins to get boils down to what you're going to wear on your feet.
If you're snorkelling in warm water, there's a good chance you'll be barefoot or wearing a fin sock. In this case, you'll want a full foot fin or an open heel fin designed to be worn barefoot. If you're snorkelling in cooler water like the UK, or if you know there's lots of rocks to scramble over to get to the water's edge, you'll want a fin you can wear with a bootie – so an open heel.
Most scuba diving fins are brilliant for snorkelling but steer clear of the solid rubber type as these are way too heavy for a snorkel adventure. Plus you'll be paying excess baggage for them if you want to take them on holiday! Lightweight fins are much more suitable.
Here's my top picks for the best fins for snorkelling: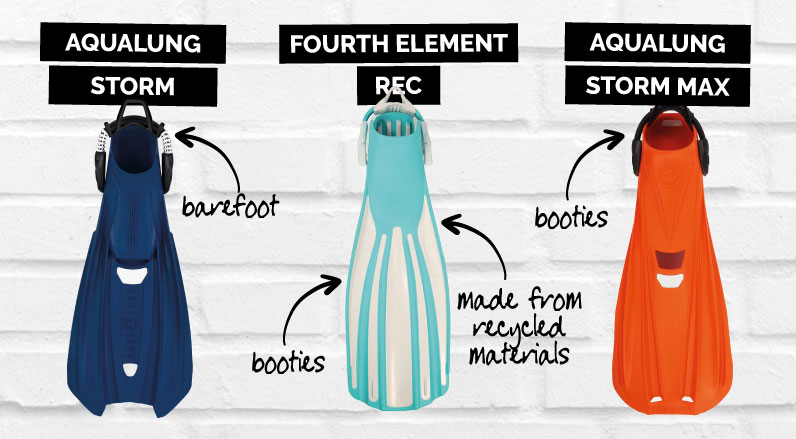 These are the best fins for snorkelling if you're off somewhere warm and will be going barefoot. Although the Aqualung Storms are open-heel (which you'd normally associate with bootie fins), they're actually designed to be super comfy without boots. The spring strap makes them dead easy to get on, unlike traditional full-foot fins.
You can also wear a fin sock to keep your tootsies warm and to stop any rubbing that might happen.
I really, really like the Fourth Element Rec fins. They're a similar design to many other bootie fins on the market (and they perform equally well), but what sets these apart from every other fin out there is that they're made from recycled materials so have a much lower impact on the environment.
A great option for eco divers – you'll be taking care not to kick the reef with your fins, but now you can get a product that protects the ocean because of the way it's made.
The Aqualung Storm Max fins are the beefed-up versions of the Storms. These ones are designed to be worn with booties and I think they'd be perfect for UK snorkelling.
ANY EXTRAS?
Now that you've picked the basic best gear for snorkelling, there might be some optional extras you'd like to add to your kit locker.
Did you know that traditional sunscreens, shampoo, conditioner and other smellies have chemicals in them that are harmful to the ocean? If they wash off your body into the water, they can kill corals and other marine life.
I love the whole Stream2Sea range. All of their products are safe to use when you're snorkelling plus all the packaging is eco-friendly too.
They've got you covered for everything you need on holiday – sunscreen, aftersun, hair care and even a reef-safe mask defog you can use to keep your new mask clear when you're in the water.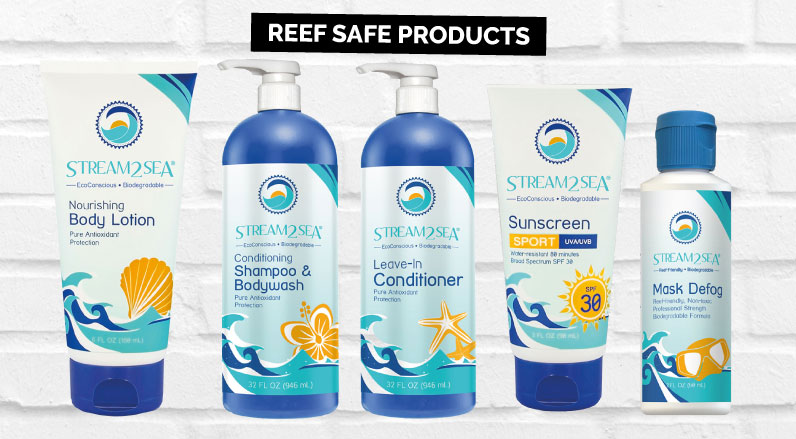 If you're planning on snorkelling adventures in the UK (or you're just one of those snorkelers that feel the cold), there's some excellent kit that will help you keep warm in the water.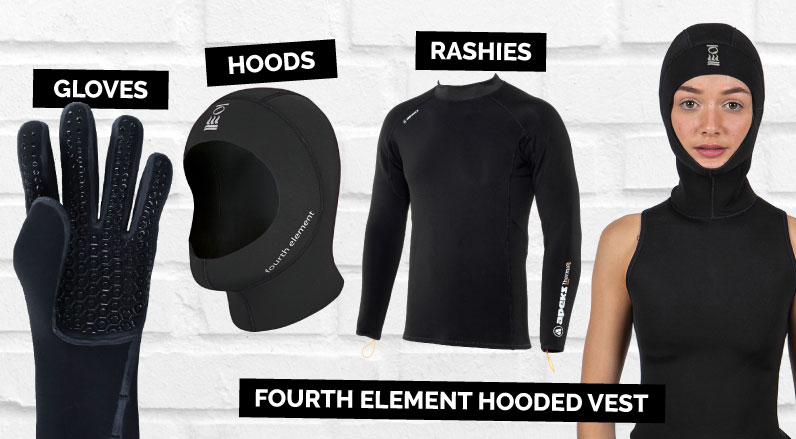 Fourth Element have the best gloves for snorkelling, hands down (see what I did there!) They'll keep your digits super warm and are available in a range of thicknesses to suit the temperature of water you'll be exploring.
As you know, we lose lots of heat from our heads. Adding a hood to your bag of snorkelling gear makes such a massive difference to your overall comfort in the water. The worst thing in the world is starting off on your snorkel tour and getting brain freeze!
We've got a few different thicknesses of hood available at The Honest Diver, but I'd suggest a 3mm or 5mm will be enough for snorkelling in cooler water. If you're off to Silfra, you might want something thicker!
FOURTH ELEMENT HOODED VEST
If you want to level up your snorkelling hood, check out the Fourth Element Hooded Vests (available in men's and women's cut). Not only do they keep the heat in from your head, they also add an extra layer of warmth on your core. If you layer up with one of these underneath your wetsuit you'll be warm as toast.
BAGS FOR SNORKEL GEAR
Carting around your gear for snorkelling can be a bit awkward. It's not so bad to chuck in the bottom of your suitcase, but once you're at the hotel it's nice to have a dedicated bag to carry your gear easily to the water or on the boat.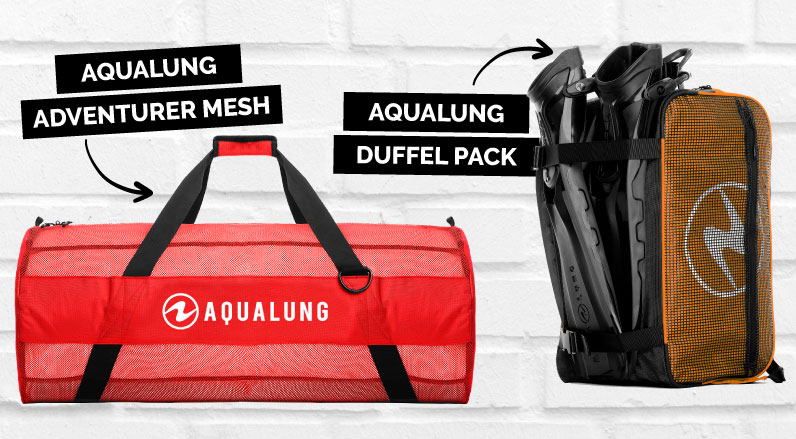 The Aqualung Adventurer Mesh Bag is a great grab-and-go carrier for all your snorkelling gear. It folds down really small so you can stick it in your suitcase for when you need it. Because it's made of mesh, you can also leave it hanging outside so all your gear dries out.
If you want a dedicated snorkelling gear bag, the Aqualung Duffel Pack will be right up your street. There's places to store every piece of gear you'll need for your day in the water. You can even colour coordinate it with you kit as it comes in loads of different colours.
The back pack style kit bag can even be used as carry on luggage!
NEED MORE ADVICE?
Hopefully this article has helped you choose the best gear for snorkelling, but there's a good chance it's thrown up some more questions too!
If you need a hand with anything, just give me a shout. I'd love to help you find the snorkelling gear that's perfect for you. If you're local to Honest HQ, feel free to book an appointment to call in and check the gear out in the flesh. You can even give it a spin in our test tank!