Aqua Lung
Aqualung Snorkelling Set | with Storm Max Fins
£183.55 B Eco-Rating
If you're a avid snorkeller, you'll love this snorkelling set. You get everything you need to explore reefs on holiday and at home in the UK.
You'll also get a bottle of reef safe defog to keep your mask clear and help you protect the ocean at the same time!
"
"
This snorkelling set includes fins that you wear with booties (rather than bearfoot).
It's perfect for holiday snorkelling, plus you can use it at home too if you add some hoods and gloves. We actually use this exact kit on our snorkel safaris at The Fifth Point.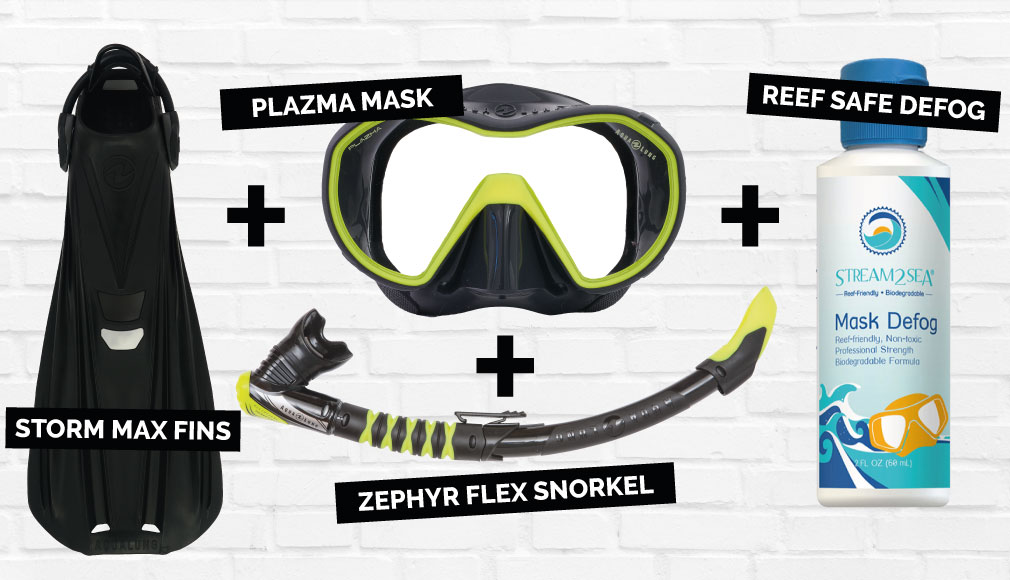 What's In The Bundle?
Your Aqualung Snorkelling Set includes:
If you bought these items individually, it would cost £203.99 so you're saving just over 20 quid woo!
Manufacturer's Bumph
AQUALUNG STORM MAX FINS
Take your kicking power to the max with the Aqualung Storm Max Fin.
It's everything a diver could want in an open-heel fin with extended durability from its single-material design. The strong blade provides perfect propulsion with minimal effort for your best dive ever.
AQUALUNG PLAZMA MASK
Compact, light, and frameless—that's the Aqualung Plazma mask.
It offers an unmatched field of vision and clarity with its panoramic mono lens. This premium mask provides the fit, comfort, and convenience (it's small enough to carry a spare in your BCD pocket) you've been looking for.
For new and experienced divers, the Aqualung Plazma mask is the only frameless panoramic diving mask that delivers a perfect fit with excellent comfort from surgical grade premium silicone and enhanced stability zones. The Plazma mask delivers a lightweight and compact, low-profile design in fresh, exciting color combinations.
AQUALUNG ZEPHYR FLEX SNORKEL
The Aqualung Zephyr Flex snorkel's unique dual-material construction combines rigidity and flexibility for dependability and comfort.
The Zephyr Flex is a corrugated snorkel, with an elliptical purge valve and an anti-shock soft splashguard.
The unique construction uses two materials, one rigid to prevent collapse and the other soft to allow flexibility which reduces pressure on the diver's mouth.
Thanks to the elliptical purge valve, the Aqualung Zephyr Flex snorkel creates a seal against incoming water and makes easy work of purging water away.
The anatomically-designed silicone mouthpiece reduces jaw fatigue and the soft splashguard top helps to reduce water entry at the surface in choppy conditions.
The ergonomic snorkel retainer is easy to operate, even with thick gloves.
STREAM2SEA REEF SAFE MASK DEFOG
"Sea" Clearly with this EcoConscious Mask, Goggle and Glasses Defog, made with only the safest ingredients for our planet.
Reef-friendly, Non-toxic
Professional Strength
Biodegradable Formula
Tested and proven safe for baitfish, freshwater fish, saltwater fish and coral larvae and does not affect their natural behavior.
Stream2Sea don't like plastic either! That is why their tubes are made from sugarcane resins!