The Honest Diver Supply Co
The Honest Diver Gift Voucher
£10.00 – £500.00 A+ Eco-Rating
Treat your buddy to a gift voucher for scuba divers. They can spend it on anything from The Honest Diver store.
Choose from one of our designs, or if you have your own idea Nic can help fully customise your voucher. Just give her some inspiration or a photo you'd like to use and she'll do the rest! There's a small custom design fee on vouchers under £100, but we really think it adds that extra special touch.
Choose your options below and we'll send your voucher by email within 48 hours (let us know if it's a rush job and we'll get on it!)
"
"
If you're completely stuck for a gift idea for your dive buddy, you can't go wrong with a voucher! If you have an idea for the way you'd like it to look, I'll even custom design it for you!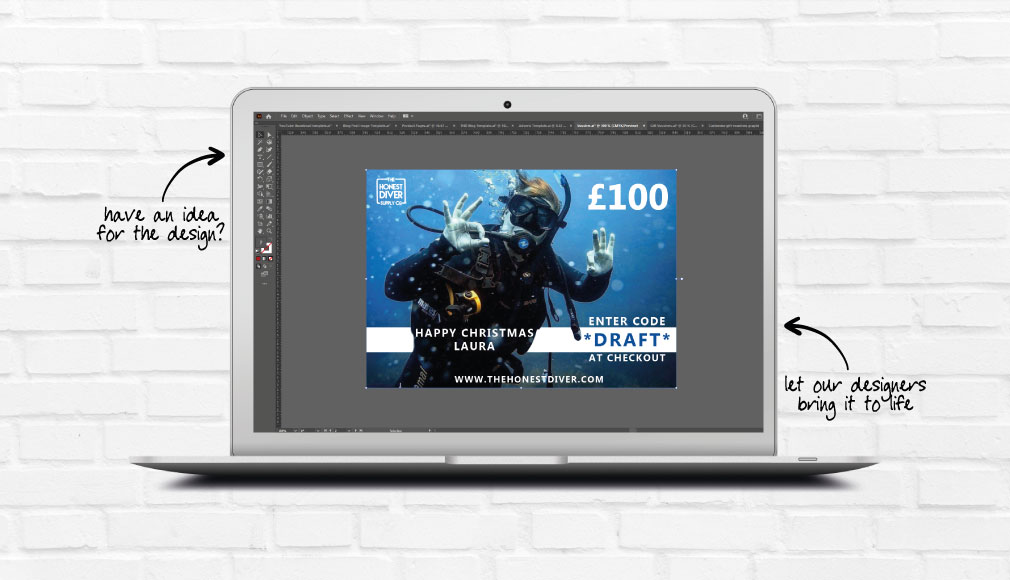 HOW WILL I RECEIVE MY VOUCHER?
Once you've ordered your voucher, we need a little bit of time to sort out codes and whatnot.
We aim to get your voucher to you within 48 hours, but if you need it sooner just let us know and we'll see what we can do!
We'll send a high-quality PDF voucher to your email so you can print it out or pass it on electronically.
HOW DOES THE CUSTOM DESIGN PROCESS WORK?
Nic is a dab hand when it comes to designing stuff (she's actually got a degree in Product Design!)
When you choose the custom design option, she will be in touch with you by email to find out more about your ideas.
You can give her some inspiration – for example, one of our amazing customers wanted to gift a voucher for their friend's wedding so Nic designed a bride and groom in diver helmets.
It might be that you know your dive buddy is mad keen on nudibranchs – she can make a design that would be perfect!
You could also send a photo that you'd like to be used.
Nic will make a mock-up of your design and send it to you to see if there's any tweaks needed (2 design revisions are included). When you're happy she'll email you a high-quality PDF for you to print or pass on electronically.
There is a small design fee of £3.99 for vouchers under £100, but it's included completely free for orders over £100.