"
"
Lovely and warm, plus the Fourth Element Xerotherm Beanie covers your ears better than a normal hat.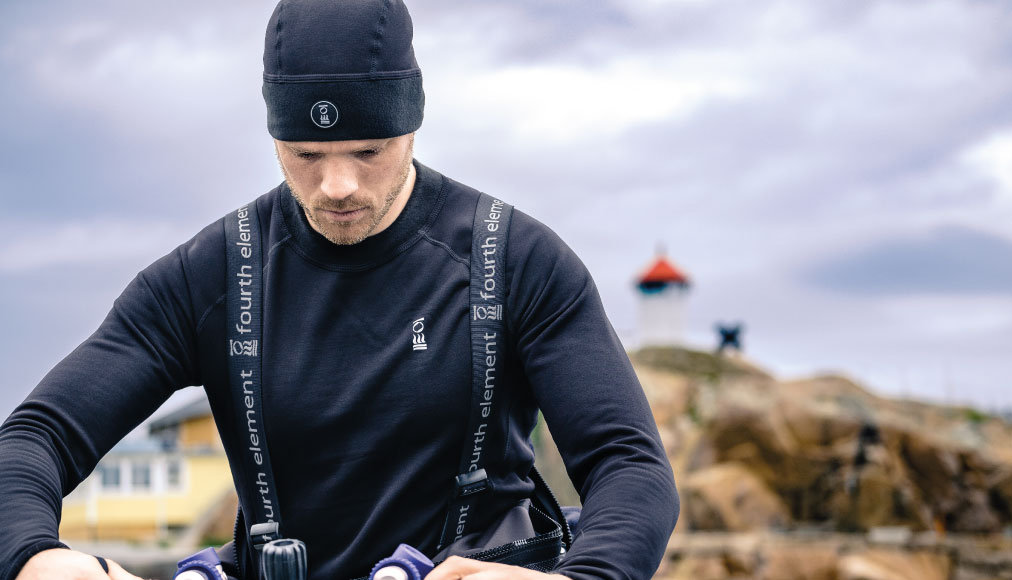 Manufacturer's Bumph
The Fourth Element Xerotherm Beanie is the perfect complement to the rest of the Xerotherm range. Effective wet or dry, the beanie hat is the ideal thing to stash in a dive bag, or even the pocket of a BCD to put on to warm up after a dive.
THE XEROTHERM RANGE: ULTIMATE THERMAL BASELAYERS
The fastest wicking thermal baselayer on the market, tried and tested in some of the most extreme environments on the planet. The xerotherm is specified by the FBI and many other professional dive teams.
The ultimate baselayer for use under a drysuit. Made using Polartec® Powerstretch® originally developed for NASA, the Xerotherm traps a layer of air – a much better insulator than water – next to the skin, keeping the wearer drier and more comfortable.
The range is designed to be worn under another undersuit or on its own under a neoprene drysuit.
The knit of the Xerotherm fabric produces the fastest wicking effect of any of the products in the fourth element product range. Moisture is drawn out through the fabric along fine fibres and then spreads out over the outer surface. This maintains a thin layer of air next to the skin. This is so effective in the Xerotherm that some wearers report experiencing minor suit leaks during the dive without even noticing until after the dive.
"The performance is superb". This was the reaction of Doug Allan, world renowned and award-winning underwater filmmaker and author after testing the Xerotherm in -2 degree (29F) water inside the Arctic Circle in Svalbard, whilst shooting sequences for the BBC production The Blue Planet.
The Xerotherm represents the ultimate in baselayer performance, unrivalled by anything else on the market. Since Doug's testing, the Xerotherm has been to the top of Everest and down to the Titanic, as well as being specified by the FBI Dive Teams, Norwegian Navy and British Police Diving Unit.
Key Features
The Fourth Element Xerotherm Beanie…
Has outstanding thermal performance
Is lightweight and has low bulk and buoyancy
Is extremely fast wicking
And hardwearing
Can be machine washed
Perform even when wet