Let's be honest, scuba divers are an absolute NIGHTMARE to buy for!
And that's ME saying that. I'm a scuba diver myself!  Trying to buy a gift for another scuba diver is just sooo difficult.
What if they've already got it?
What if it just sits at the bottom of their kit bag and they'll never actually use it? 
What if it's a waste of money?
And as a scuba diver, I have a pretty good idea of things they might need. I can make an educated guess and hope for the best.
If you're expecting your non-diving significant other to pick out the perfect Christmas gift for you, then you should know that they're stressing about all those questions and more. There's a good chance they're not sure about what equipment you use or what you'd find useful.
If you're reading this as a non-diver, firstly I apologise for all the times your friend has droned on and ooonn about diving 😉 Secondly, I hope this article helps you get the information you need to send them a personalised scuba diving gift this Christmas!
OUR CHRISTMAS WISH THIS YEAR
We want to take all the hassle out of buying gifts for scuba divers. It should be an enjoyable process, not a stressful one!
Our Christmas wish is to make hundreds of happy scuba divers. We can't wait to see all the photos we're tagged in on Christmas morning from divers with huge grins on their faces!
To make prezzie hunting as easy as possible, we've set up a service to help you find out exactly what that special scuba diver in your life wants for Christmas. Think of it as a (not so) subtle hint for a personalised scuba diving gift.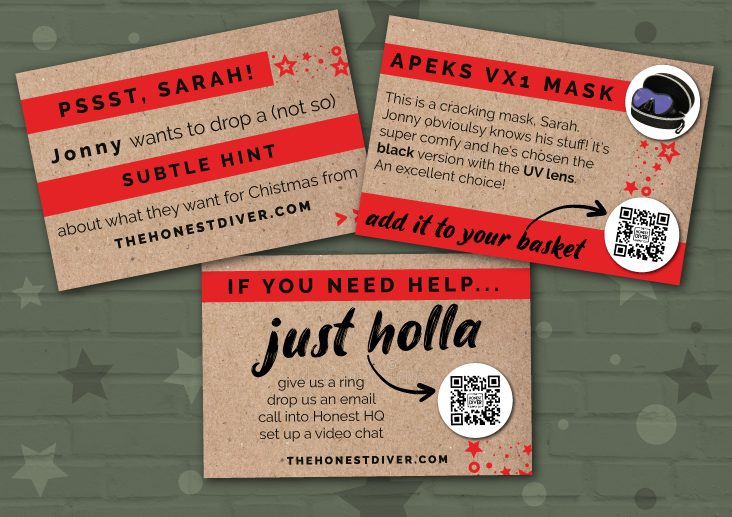 IF YOU WANT TO
RECEIVE

A PERSONALISED SCUBA DIVING GIFT THIS CHRISTMAS…

Oooh, you're gonna be such a lucky diver on Christmas morning!

I bet you've got a wish list as deep as the Mariana trench. You know what's missing from your kit list, you know what little gadget would make your diving easier, you know that thing you've been drooling over for months.

Now it's time to share that information with your friends and family. Make their lives easy by spilling the beans on exactly what you'd like for Christmas.

We can help you send a hint card in the post. Simply tell us their name and address, plus the diving gear you'd like to receive as a gift.

We'll then create a personalised scuba diving gift note and send it to them in the mail. It'll have all the info they need to sort out your present before Christmas and of course, if they need any extra help we're here for them!

SEND YOUR (NOT SO) SUBTLE HINT
IF YOU WANT TO GIVE A PERSONALISED SCUBA DIVING GIFT THIS CHRISTMAS…
Aww, you're just the best! You know your buddy is absolutely obsessed with anything that's scuba diving related, so they are going to love you forever!
I totally get how difficult it can be to buy for a diver when you have no idea where to start.
But don't worry, I've got 3 ideas to help you give a personalised scuba diving gift this Christmas.
1. Use our (not so) subtle hint service. Point your buddy to this online form. When they fill it out, they're going to tell us exactly what they fancy for Christmas. We'll then put all the information together and send it to you along with links for you to take a look, see what you think and add it to your basket.
2. Let us do the hard work with our surprise packs. If you tell us a little bit about your diver (like what type of diving they enjoy, if they dive in warm water or cold water etc) we can handpick goodies that we think they will love. We'll package them up in a lovely surprise gift pack and deliver it to you in time for Christmas. Check out our surprise packs here.
3. Create a personalised gift voucher. Probably the ultimate fail-safe for gift buying  – if you literally have no idea what they want, get them a voucher so they can choose later. We've got some awesome Christmas designs, but I want to make sure it's a personalised scuba diving gift voucher. You can send me a picture of them or give me an idea of what they love about diving and I will create a custom design just for them. Check out our gift vouchers here.
WE'RE HERE TO HELP
The whole team at The Honest Diver are here to help this Christmas.
I can help you organise everything, design your vouchers and recommend colour schemes, but when it comes to drilling down into the perfect personalised scuba diving gift, Jim is your man.
He has an uncanny knack for asking the right questions and then using the answers to magic up gift ideas that will make you a festive favourite.
If you'd like to sit down with Jim, let us know if you're coming to Honest HQ so we can make you an appointment and have everything ready. If you're not local you can also set up a video chat over zoom to go through stuff too.
And of course, if you're calling into Honest HQ then Hal is here to melt the stress away with lots of Christmas cuddles!