Stream2Sea
Eco Friendly Hand Sanitiser
£6.50 – £29.99 A+ Eco-Rating
We are constantly cleaning our hands. How much gel are you going through every month?!
It's time to switch to this amazing eco friendly hand sanitiser. It's reef safe, made of recycled packaging (and can be refilled), it's not sticky AT ALL, and it smells amazing!
"
"
Cleaning our hands has become sooo routine so I was stoked to find an eco friendly hand sanitiser! It smells AMAZING (a bit like vics vapour rub?!), is totally reef safe and the packaging is made from recycled milk jugs.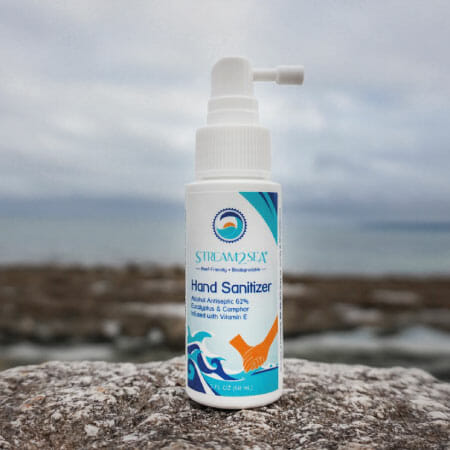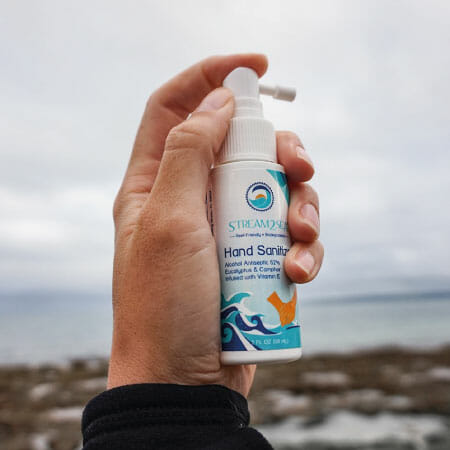 Manufacturer's Bumph
Stream2Sea EcoConscious hand sanitiser is formulated to be safe for you and safe for our planet. Stream2Sea is proud to offer Essentials that have not been tested on animals. Instead, utilising the knowledge gained through prior development, to create products upholding our mission.
This eco friendly hand santiser is made of natural ingredients. The alcohol antiseptic is pure ethanol from fermented Florida Orange peels that we denature with lovely eucalyptus oil. It's biodegradable, microplastic free and reef safe. There's no synthetic fragrances or preservatives.
Plus it's Carbomer free, Triclosan free, Paraben free, preventing harm to corals and your endocrine system!
To clean hands, apply as often as needed.
Key Features
Cruelty-free
Vegan
Water thin and not greasy at all
Alcohol Antiseptic 62%
Kills 99.9% of Germs
Eucalyptus & Camphor
Infused with Vitamin E
For Frequent Use
Biodegradable Liquid
Stream2Sea Essentials will never contain:
Microplastics / Carbomer
Synthetic Fragrances / Parfum
Synthetic Denaturants
Quaternary Ammonium Compounds