Avatar
Avatar | Men's Bundle
£1,350.00 C Eco-Rating
We've been so impressed with the Avatar drysuit and undersuit, we've put them in a bundle to bring you a super affordable, full drysuit setup. It even includes Santi dry gloves to make sure you're toasty warm!
You're saving £155 with this setup, don't worry, we'll always look after you as best we can!
"
"
I've been diving the Avatar drysuit and undersuit for a while now, it's my new work uniform! The performance and quality is amazing (it's to be expected really considering they come from the Santi factory!) and the dry gloves work a dream too.
If you're on a budget and looking for the full shebang, you're definitely going to get your money's worth with this bundle!
Manufacturer's Bumph
Avatar drysuit
The Avatar drysuit is the simple and easy to use alternative when you want to start drysuit diving or upgrade your bulky old drysuit.
Enjoy the benefits of modern drysuit diving: great thermal comfort, less bulk in your travel luggage, easy donning and doffing.
The innovative, breathable four-layer membrane nylon material offers you:
"Casual garment" comfort and unprecedented lightness (2.9kg, mens large)
Fast-drying process and compact, ergonomic construction
Membrane breathability, well known from other professional sportswear which increases surface comfort
Avatar UNDERsuit
The Avatar undersuit has been designed as a comfortable and functional insulation for your drysuit.
Functionality, very high flexibility and simplicity of design has created a convenient and inexpensive diving undersuit that will meet the expectations of everyone who is looking for an economical alternative on the market.
On the outside, the SHERPA fleece is covered with a smooth grey melange jersey fabric, which ensures maximum stretch and ease of washing and drying of the Avatar undersuit. It is warm, flexible and fits well, as a fleece undersuit it also has neutral buoyancy.
SANTI SMARTGLOVES DRY GLOVE SYSTEM
The Santi SmartGloves is a self-assembled dry glove system, compatible with the Avatar drysuit (and Santi suits with the SmartSeals ring system).
Its main advantage is the flexibility that allows the diver to put on and take off the gloves effortlessly. It doesn't impair operating equipment and it's still easy to reach hard places during the dive.
Thanks to their flexibility, they can be used by divers with various hand sizes.
The system makes use of an extremely large sealing surface as well as high resistance to mechanical damage and atmospheric conditions.
Key Features
Avatar drysuit
The Avatar drysuit offers all essential features you need in a proper drysuit set-up:
Advanced ergonomic construction that eliminates four-way seams in the crotch and underarm areas giving you unrivalled mobility in this price range
Telescopic torso construction for the best body movement and adaptation underwater
Internal suspenders and a crotch strap to keep the suit in the proper position on your body
Front entry, plastic zipper covered with protective flap for convenient self-donning and doffing of the suit.
Oxford nylon reinforcements at knees and elbows, plus a specially designed crotch pad to enhance the durability and prevent abrasion in those areas
Neoprene warmneck collar to keep you comfortable in colder water, and to keep your hood neat around the neck area.
Two comfortable and spacious cargo pockets with bungee loops to secure your items. The pockets are easy to use with dry gloves.
Comfortable and flexible neoprene boots, latex seals at neck and wrists, Apeks inlet and outlet valves.
Elegant colour combination of navy blue and black with white accents
The drysuit comes with a handy, compact drysuit bag for easy and light transport, and a neoprene hood is included.
Smart seals
Avatar UNDERsuit
Made of SHERPA fleece made from 100% recycled plastic bottles.
Weight 450 g/m2
Weight: approx. 0,7 kg
Estimated comfort of diving at water temperature from 6 to 18 degrees Celsius
Easy washing and drying – washing cycles allow maintaining better insulating properties
2 side pockets
Double-sided splash-proof zipper
Laminated cuffs with elastic thumb loops to prevent the sleeves from pulling up,
Wide rubber under the foot at the legs, preventing the legs from pulling up when putting on the drysuit,
Output for Heating cable
The P-valve outputs inside the pockets
SHERPA fleece is soft and comfortable in contact with the skin, it also has exceptional insulation properties, compared with natural lamb wool
Very lightweight and wear-resistant,
100% recyclable
Simple, functional cut
Original colour – grey mélange, white logo on left arm
Can also be used for other sports.
Size Guide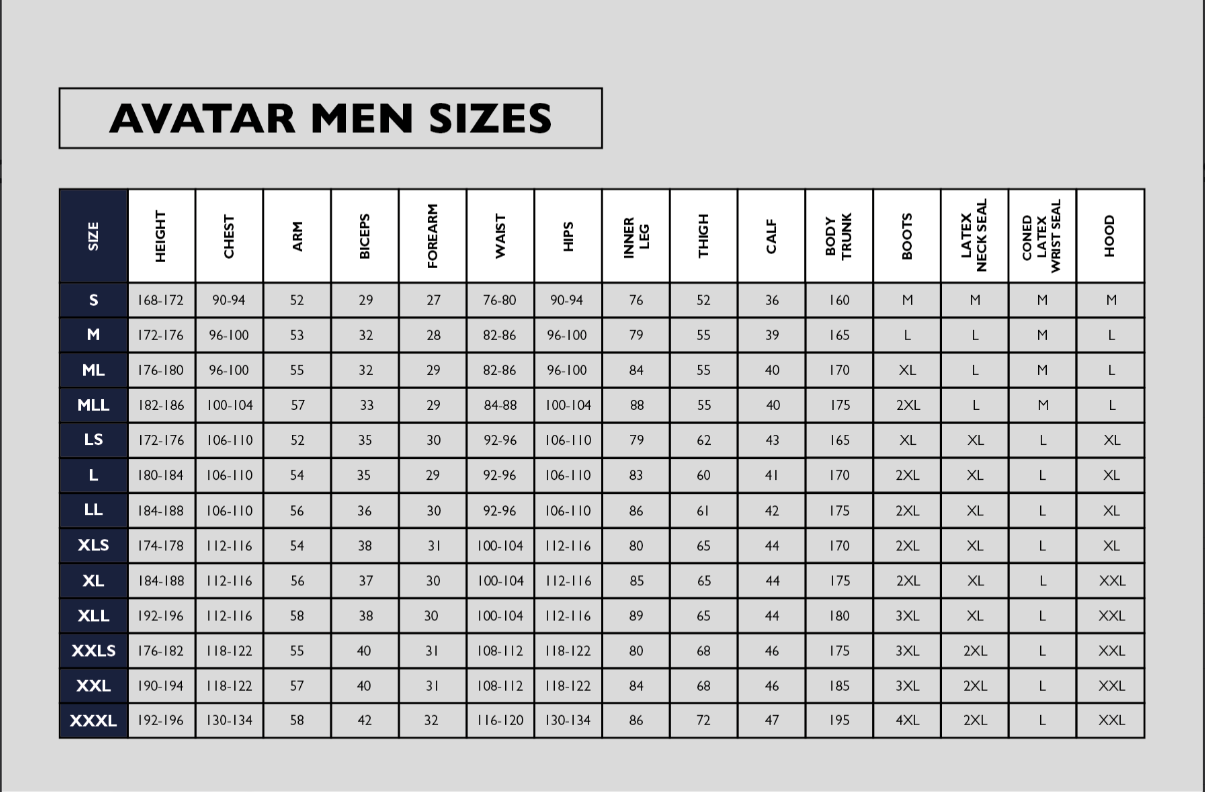 BOOT SIZE GUIDE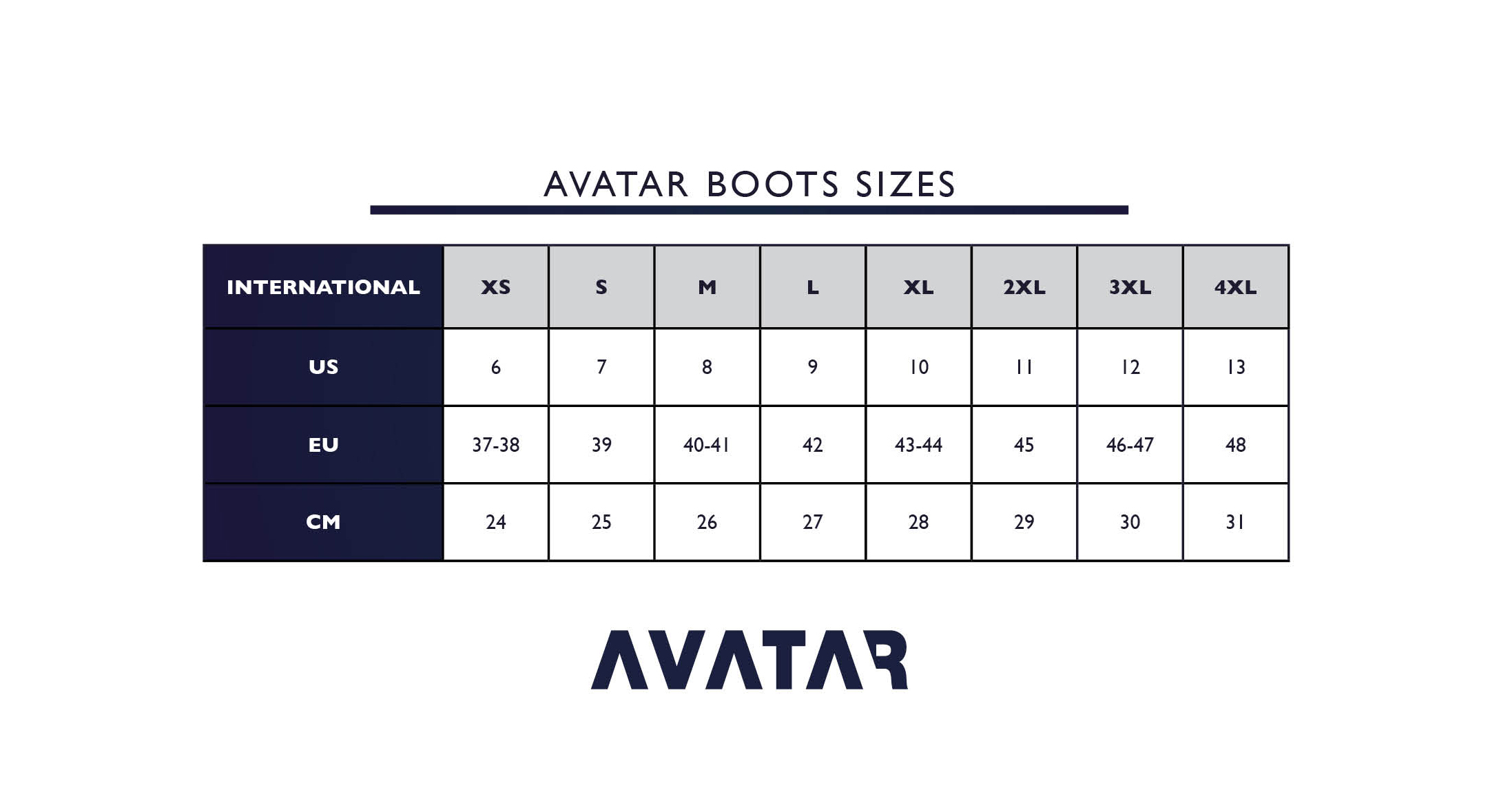 MEASURING GUIDE